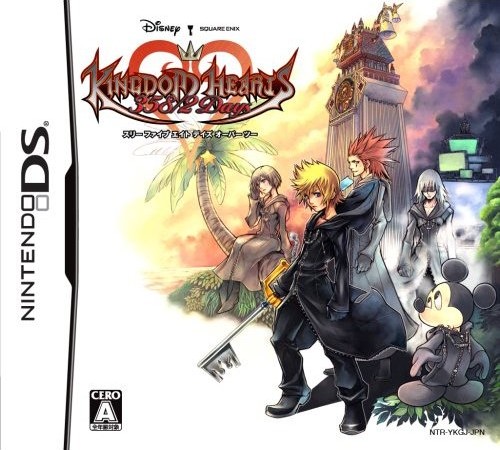 Kingdom Hearts 358/2 Days (キングダム ハーツ Kingudamu Hātsu : Surī Faibu Eito Deizu ōbā Tsū) (pronounced "Kingdom Hearts : Three-Five-Eight Days over Two" as read in Japanese too) is an RPG developed by Square Enix for the Nintendo DS with aid from H.a.n.d. It is an installment in the best-selling Kingdom Hearts series. The game features the life of Roxas between the end of Kingdom Hearts:Chain of Memories and the beginning of Kingdom Hearts II, exploring the time from Roxas' creation until his confrontation with Riku that leads to his placement in the simulated Twilight Town, a data-based Twilight Town in Kingdom Hearts II.
Square Enix revealed at Tokyo Game Show 2007 that a new unique installment to the Kingdom Hearts Series would be coming exclusively to the Nintendo DS. In 358/2 Days, Players will learn more about Roxas' time in the Organization XIII by engaging in both exciting single-player & multiplayer modes. Many unanswered questions about Roxas' life (while Sora was sleeping for one year) will be explored alongside offering Kingdom Hearts fans a whole new way to enjoy the series in a variety of Disney worlds.It will come out the 30th of may in Japan. A tentative release date of August 31, 2009 has been given by Game Stop for North America.
Playable Characters: (Some characters are secret, if you want to see them, highlight the red lines !
Xemnas

Xigbar

Xaldin

Vexen

Lexaeus

Zexion

Saix

Axel

Demyx

Luxord

Marluxia

Larxene

Roxas

Xion

Donald

Goofy

Sora

Riku

"Double keyblade Roxas"

King Mickey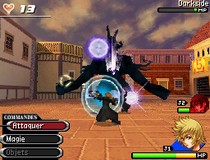 Plot
358/2 Days revolves around the untold events of Roxas during his time with Organization XIII. The initial trailer showed events in Twilight Town, as did more recent trailers and scans. The clock tower is shown as Roxas, Axel and Xion's hangout. Organization XIII's headquarters will also be featured. Xaldin and Roxas have been seen running around Beast's Castle, and a trailer at the official site shows that they fight a Darkside Heartless there. Xigbar has also been seen battling a dualblade heartless with Roxas in Halloween Town.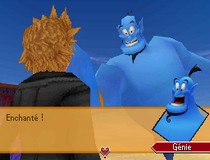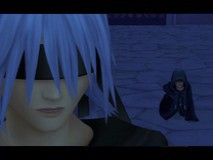 Chronology
This game, much like Kingdom Hearts: Chain of Memories, takes place in between the two main games in the series. This one presumably begins directly after Roxas is created near the end of the first Kingdom Hearts, through the events of Chain of Memories, and ending with the beginning of the second Kingdom Hearts, when Sora wakes up. It may possibly cover the deaths of several Organization members (Vexen, Lexaeus, Zexion, Marluxia and Larxene).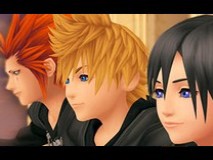 Confirmed Worlds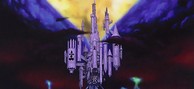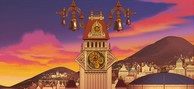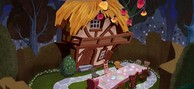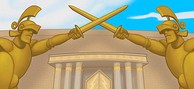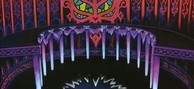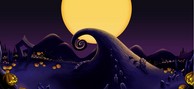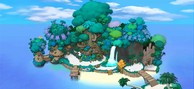 Gameplay

The gameplay is believed to be similar to the action-RPG style of the previous games in the series, and takes place in a 3D environment. Non-canonical Multiplayer gameplay is also included, and confirmed to control Roxas and all of the members of Organization XIII (exept Xion). There orignially were three status bars, HP, MP and a new one labled LM, but the LM and MP bars have been removed. In recent scans, the familiar command menu from past installments of the game has returned, this time with only three visible commands.
They also had a control scheme in the Jump Festa 2008 Demo: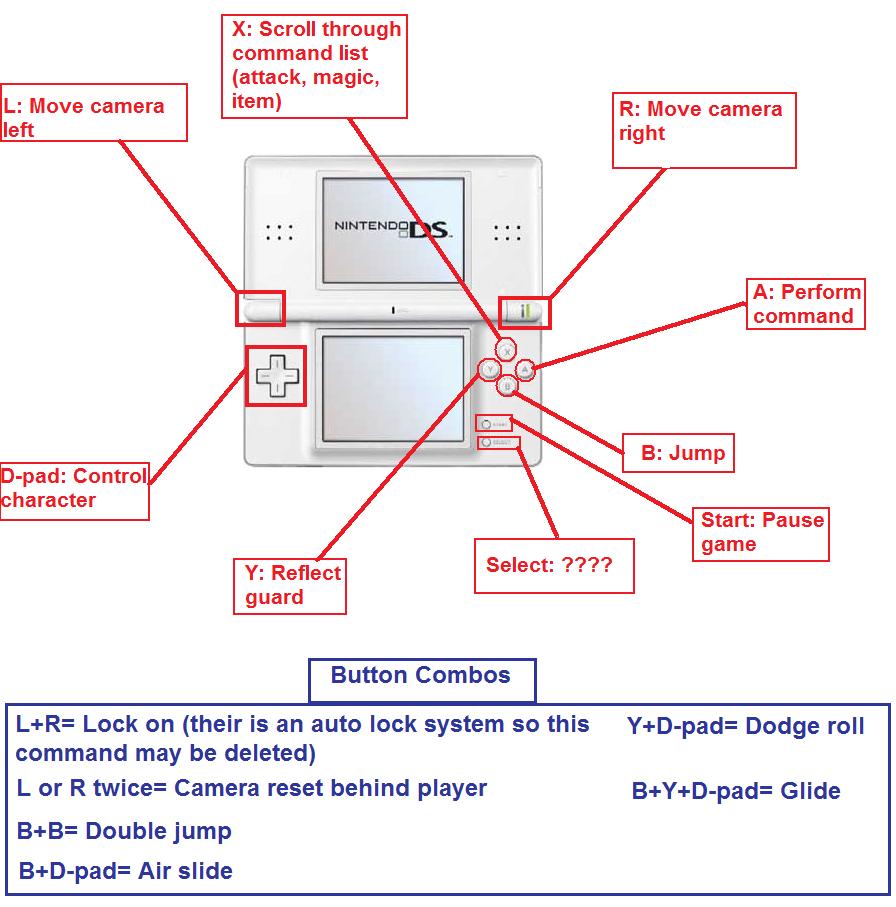 Nintendo Power subsequently described a control scheme that allowed players to move the camera with the touch screen, and to move, jump, and attack using the control pad and face buttons. These controls may still change before the game is released.
Another interesting point is the height of the chairs in Where Nothing Gathers. The chairs' heights do not actually relate to the number of members in the Organization, but rather their rank. Lower ranking members, like Vexen and Lexaeus have lower chairs, where as higher ranked members, like Saïx and Marluxia have higher chairs. When missions are completed in 358/2 Days, the height of the chairs change depending on how well or poor the members did. In a recent Famitsu artice, it has been stated that you can change your weapons. Also, Demyx and Roxas have been seen with new weapons. The Kingdom Key will be able to take different forms using a new concept involving gears. The only known form so far is one called the Wind Maker.
Tips and Tricks
How to unlock:
Goofy :
Finish the story mode (in any modes).
Donald :
Finish day 244 in story mode.
King Mickey :
Finish the game and buy the item "Return of the King" in mog's shop.
Sora :
Finish the game and buy the item "Soul of Sora" in mog's shop.
Xion :
Finish day 96 in story mode.
Riku:
Play story mode to day 171
Two Keyblades hooded Roxas:
Equipe Roxas with the weapon with the nobody emblem for icon (buyable for 10,000 heart point). Then link 3 "target icons" (you can only play him in mission mode)
Theater mode:
Beat story mode !
Complete Story Mode (any difficulty / any character) to unlock the New Game +. In the New Game +, some items and stats will carry over into your new game.
Game guide (walkthrough): http://www.gamefaqs.com/portable/ds/file/943346/56765
Action replay codes: (I think)
Soraoscuro's codes

(Fill both ??? with the same digit, or you'll get super glitchy things)

Weapon mod
1207E676 0000????
120B232A 0000????

Moveset mod
120B239F 0000????
120B2386 0000????


6578 - Xemnas
6978 - Xigbar
6178 - Xaldin
6576 - Vexen
656C - Lexaeus
657A - Zexion
6173 - Saïx
7861 - Axel
6564 - Demyx
756C - Luxord
616C - Larxene
616D - Marluxia
6F72 - Roxas
6F78 - Xion
6F73 - Sora
6F64 - Donald
6F67 - Goofy
6972 - Riku
696D - Mickey
3272 - Dual Roxas
Ex: (last line is "play as donald")
Play as Donald with Riku's Weapon/Moveset
1207E676 00006972
120B232A 00006972
120B239F 00006972
120B2386 00006972
02042E0C 00000011
Mission Mode Character Mod
02042E0C 000000XX
Replaces XX with
XX - Effect
00 - Roxas
01 - Axel
02 - Xigbar
03 - Saix
04 - Xaldin
05 - Sora
06 - Demyx
07 - Larxene
08 - Lexaeus
09 - Luxord
0A - Marluxia
0B - Riku
0C - Vexen
0D - Xemnas
0E - Xion
0F - Zexion
10 - Mickey
11 - Donald
12 - Goofy
13 - Hooded Roxas - Dual Wield
14 - Hooded Roxas - Single Wield (only works if used mid-mission, else crash)
15 - Hooded Xion

GodMode
02042F0C 000000FF

EXP Multiplier
2206C3B8 E7912100
2206C3BC EAFE4F12
2200000C E3500005
22000010 1A000001
22000014 00923XX6
22000018 EA01B0E8
2200001C E0923006
22000020 EA01B0E6
22000000 00000000

XX Values for EXP Multiplier
08 = x2
10 = x4
18 = x8
20 = x16
28 = x32
30 = x64
38 = x128
40 = x256
48 = x512
50 = x1024
58 = x2048
60 = x4096
68 = x8192
70 = x16384
78 = x32768

Have All Panel Spaces
12193F28 0000FFFF

Have 69 of all XX panels

Items
12193F2A 00004545
22193F2C 45454545
22193F30 45454545

Lv
12193F66 00004500
22193F68 45454545
22193F6C 45454545
02193F83 00000045
02193F84 00000045

Magic
22193F84 45454545
22193F88 45454545
22193F8C 45454545
22193F90 45454545
22193F94 45454545
22193F98 45454545

Abilities
22193F9C 45454500
22193FA0 45454545
22193FA4 45454545
22193FA8 45454545
22193FAC 45454545
22193FB0 45454545
22193FB4 45450045
22193FB8 45454545
22193FBC 45454545
22193FC0 45454545
22193FC4 45454545
22193FC8 45454545
12193FCC 00004545
02193FE3 00000045
22193FE4 00454545

Weapons
22193FE8 45454545
22193FEC 45454545
22193FF0 45454545
22193FF4 45454545
22193FF8 45454545
22193FFC 45454545
22194000 45454545
22194004 45454545
22194008 45454545
2219400C 45454545
22194010 45454545
02194014 00000045
02194019 00000045
0219401F 00000045
22194020 45454545

Synthesis
22194024 45454545
22194028 45454545
2219402C 45454545
22194030 45454545
22194034 45454545
22194038 45454545
2219403C 45454545
22194040 45454545
22194044 45454545
22194048 00454545
1219405E 00004545
22194068 45004545

Rings
221940F0 45454545
221940F4 45454545
221940F8 45454545
221940FC 45454545
22194100 45454545
22194104 45454545
22194108 45454545
2219410C 45454545
22194110 45454545
22194114 45454545
22194118 45454545
2219411C 45454545
22194120 45454545
22194124 45454545

In Battle Codes
Chain 9999 (Select) [Need to move to another area to see the changes]
94000130 FFFB0000
021A7444 0000270F
D2000000 00000000

HP Never Decreases
020AC720 E1A00000

Hold Y for Walkthrough (walk through walls?)
0202DC94 EBFFFA7E
94000136 FFFD0000
0202DC94 E1A00000
D0000000 00000000

Hold R+B to Float at Highest Point
94000130 FEFD0000
221A9C71 000000FF
D2000000 00000000

Story Mode Character Mod
Change Roxas into ?
9204C1E4 00000002
2204CA8F 000000xx
D0000000 00000000
9204C1E4 00000080
2204CA8F 00000000
D0000000 00000000

Partner Mod
9204C1E4 00000002
2204CB93 000000xx
D0000000 00000000
9204C1E4 00000080
2204CB93 00000000
D0000000 00000000
Musics
 Sources: http://www.imdb.com/title/tt1302571/ , KH-insider, kh wikia, kh destiny, IGN